GRANBY'S PUBLIC DOG PARK IS MANAGED AND MAINTAINED BY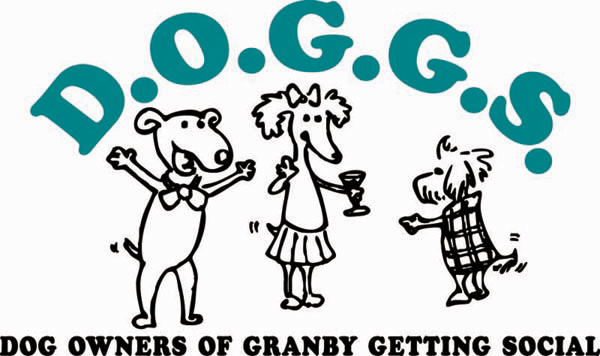 P. O. Box 334, Granby, CT
GRANBY D.O.G.G.S. PARK- Opened since November 2005
Welcome to the Granby D.O.G.G.S. Park!
The Granby D.O.G.G.S Park is open year round and welcomes all visitors!
The water source at the dog park has now been turned off for the winter season so please bring water for your dog.
The Granby D.O.G.G.S. Park is a popular spot for local dog owners and their canine friends to folic together and hone their socialization skills.
It is also a place for people who don't own a dog to come and watch the canine fun.
Visitors to the Granby D.O.G.G.S. Park need to show respect to one another through their actions and their words.
Please be responsible and observe all Granby D.O.G.G.S. Park rules, especially the ones about NO children under 8 years and NO food or drink within the dog park.
THE GRANBY D.O.G.G.S. PARK IS AN OFF-LEASH DOG PARK LOCATED WITHIN SALMON BROOK PARK ON SALMON BROOK STREET IN GRANBY,CT. THE ONLY AREA WHERE DOGS ARE PERMITTED TO BE OFF-LEASH IS IN THE D.O.G.G.S. PARK. IT'S BEEN REPORTED THAT SOME DOG OWNERS ALLOW THEIR DOGS TO PLAY OFF-LEASH IN THE BALL FIELDS, SOCCER FIELDS AND OTHER AREAS AT THE PARK AND IT'S CREATING A SANITATION PROBLEM BECAUSE NO ONE IS PICKING UP THEIR DOG'S POOP. IF YOU'RE VISITING OUR DOG PARK, PLEASE BE RESPECTFUL OF SALMON BROOK PARK'S RULES AND KEEP YOUR DOG ON A LEAD UNTIL YOU ARE SAFELY INSIDE THE DESIGNATED OFF-LEASH AREA. THANK YOU!
The Town of Granby is not responsible or liable for any injury to any person or dog as stated in the posted park rules.
The park is for
CANINE off-leash recreation only and because of
obvious health, safety, and personal liability issues,
CHILDREN UNDER 8 YEARS OLD ARE NOT ALLOWED IN THE PARK
.
CHILDREN UNDER 16 MUST BE ACCOMPANIED BY AN ADULT WITH A DOG.
Since the park is specifically designated for canine off-leash play, it is expected that anyone coming into the park will be accompanied by a dog.
If you bring an older child into the park when you visit with your dog, you are required to
keep them under your close supervision
at all times and not allow them to run around or chase the dogs - even your own.

FOR THE SAFETY OF ALL PARK VISITORS, PLEASE OBSERVE OUR POSTED PARK RULES. VISITORS WHO DO NOT OBSERVE PARK RULES WILL BE ASKED TO LEAVE THE PARK PER ORDER OF THE TOWN OF GRANBY.

AND ANOTHER MESSAGE TO OUR PARK VISITORS: We hope you and your dog(s) enjoy your visits to Granby's public off-leash canine park. Although D.O.G.G.S. falls under the auspices of the Parks Department for the Town of Granby, we do not receive any public funds to manage and maintain the park. Without private donations, we wouldn't have the funds we need to keep the park open to the general public. If you haven't already made a donation to support the park, please consider making a donation today. Your donation is tax deductible (CT residents) and will go a long way in keeping our park maintained throughout the year. For more information, check out our brochures at the park or, click here to print a donation form and mail it in to us today.
"A dog is the only thing on this earth that loves you more than he loves himself."
Josh Billings