Over $6000 was raised for the maintenance and upkeep of
the Granby D.O.G.G.S. park.
Thank you to everyone who contributed
More Canine Swims will be held in 2020. Check back later for the dates.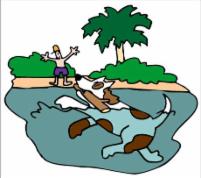 All proceeds go towards paying for the upkeep
and maintenance of the dog park.

Canine Off-Leash Swim
2020 dates to be determined at a later date.
12:00pm - 3:00pm

cash/checks only - no cc accepted

Canine Swims take place within the enclosed pond area in Salmon Brook Park

Great fun for your dog to frolic and swim with other dogs in an enclosed beach area.
For the non-swimming dogs, they can run around with new friends too!!

JOIN US FOR A GREAT DAY OF FUN FOR YOU AND YOUR DOG
"You can say any fool thing to a dog, and the dog will give you this look that says, `My God, you're RIGHT! I NEVER would've thought of that!'"
Dave Barry